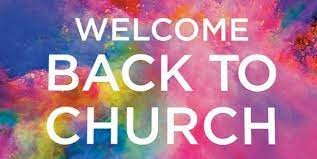 Stores, schools and restaurants are open.
Sporting and recreational venues have opened their doors.
Employees have returned to offices, shops and factories.
It's time for Catholics to come back to Mass.
Live-streamed Masses were a blessing during the lockdown.
But they were only a shadow of the real thing.
We need to stand shoulder to shoulder
with our brothers and sisters.
We need to sit, kneel, sing and pray
in communion with one another.|
We need to receive the Real Presence of Jesus
in the Sacrament of his body and blood.
There is no such thing as a virtual life of faith.
Turn off the television. Shut down the computer.
And come back to Mass.
The Lord is waiting with outstretched arms.